For Mara Jade's long green dress, I started with McCall's pattern M9456.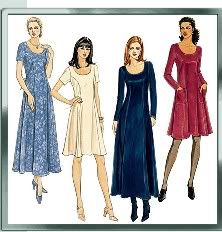 using the version shown in dark blue. I made the sleeves larger and puffier by adding about 3" extra into the center of the sleeve.
While sewing the sleeve into the dress, I gathered the extra material in between the notches, so it is still smooth under the arms.
I cut off the hem allowance of the sleeve, and instead made a cuff to fit my wrist, with enough to overlap for a button or a snap. I turned under the edges of the sleeve seam allowance to make the cuff opening, and gathered the bottom of the sleeve into the cuff to fit around my wrist, so that the edges come together smoothly.
The only problem with this pattern, is the neckline is too low. The shoulder armor is OK on the right shoulder, but on the left it doesn't fit correctly. If the shoulders were wider, so that the silver part and the green part met at the neck, I think it would look better, not to mention be more comfortable!

I did start the overskirt with a pattern, but it was not of much use. Basically, the skirt is made of three rectangles.
The back rectangle should measure about 1.25 to 1.5 times the width of your back at the waist, depending on how much gathering you want.
The top of right front piece should be as wide as half the distance from the side seam to your belly-button. The bottom width should be the distance from the side seam to the center front. The bottom should be curved so that it is shorter at the center front.
The center front is then angled from the top corner to the bottom corner.
The left front side should be a rectangle as wide as the right side is at the top. This part is gathered or pleated as much as possible from the side seam towards the center.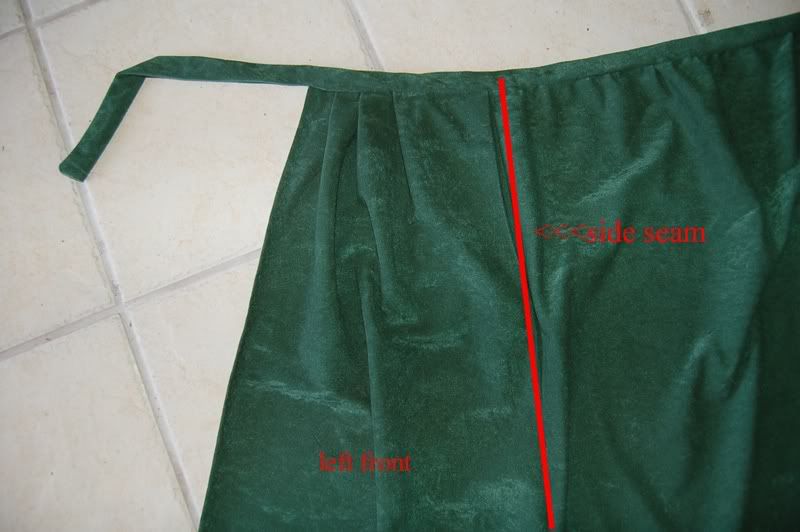 The top band is just a long strip of fabric sewn to the skirt and then folded over. It will be hidden under the leather belt, but it should lie as flat as possible. Then the ends of the strip over lap in the front and can be pinned or snapped closed. The entire edge of the overskirt has to be hemmed.